35 years aloft: Bristow Captain John Johannenson's legacy is pure safety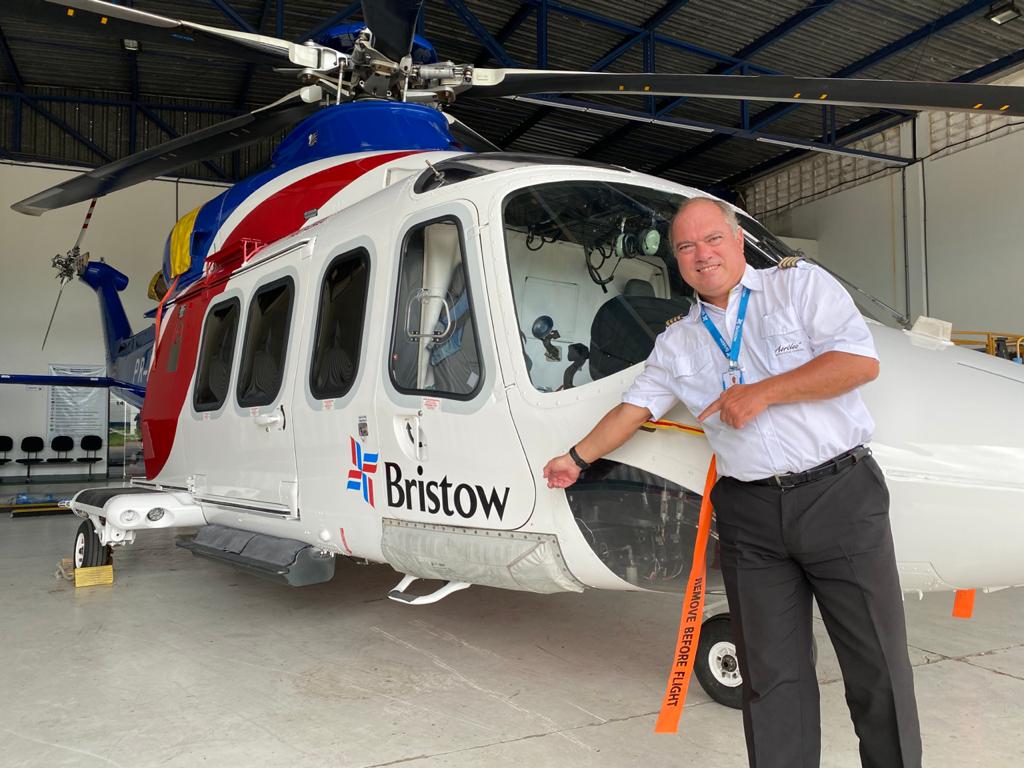 With an astonishing 28,000 flight hours under his belt over a 35-year career, Bristow Captain John Johannenson has a safety record that is both impressive and impeccable. His dedication to flight safety is evident in his accident-free service record, a shining example of the emphasis Bristow places on safety, both on and off the helicopter
Since 1906, Brazilians have revered their pioneering aviator, Alberto Santos-Dumont, holding him in the highest regard. Many believe he achieved the first powered flight, even before the Wright Brothers, and his undeniable contributions to aviation have solidified his place in global flight history.
Bristow Brazil's Captain John Johannenson may not be likened to Santos-Dumont in terms of aviation firsts, but there's a parallel in the respect, admiration, and inspiration he elicits from his colleagues. This year John marks 35 years flying for Bristow. He has flown various aircraft, mentored countless young pilots, and has steadfastly built a reputation characterized by commitment, excellence, and passion.
Born and raised in Rio de Janeiro, Johannenson's fascination with flight first surfaced at age five when he drew a picture of a helicopter flying over a house. Before many teenagers even think about driving, John was already flying. By 17, he earned his pilot's license, making his way around Rio offering flight instruction and enabling tourists to see Rio's iconic landmarks and extensive natural beauty from above.
"I was able to fly before I could drive," Johannenson said. "I wanted to fly for as long as I can remember, and I've enjoyed every moment of it. I wouldn't change a thing."
But Johannenson excelled and loved two things, architecture and flying. When he was hired at Bristow, he was slated to relocate to the city Fortaleza, capital of the northeastern Brazilian state of Ceará. At the time, he had to decide about his future. Would he pursue his life's passion and fly or design buildings and homes?
"I was going to fly. No question about it."
At the age of 20, Johannenson's first day at Bristow was January 8, 1988, as a Co-Pilot on a Bell 212. He was promoted to Captain of a Bell 206, and eventually both the Bell 212 and Bell 412. When the S-61 aircraft arrived in the Company, he was a First Officer, being promoted to Captain soon after. In his career, he's commanded the Super Puma L1, L2, EC 225, and AW139 as well.
Johannenson's days, like many pilots, begin bright and early. He flies out of all five bases in Brazil. Currently, he also serves as a Line Flight Instructor. In the past, he was a Heavy Aircraft Simulator Instructor.
Johannenson's journey with Bristow has been full of inspirations and mentorships. Captains Jorge Americano and Amaral stand out, having left a lasting impact on him with their principles of proactivity, responsibility, and unwavering commitment to standardization.
"Watching these seasoned Captains during my initial years, I always aspired to be like them. These 35 years with Bristow have been an incredible journey of learning, growth, and contentment. I hope that I have somehow passed on something good to my younger colleagues as well."
When Johannenson's not flying AW139s, he's out running on the beach, listening to rock 'n roll tunes from the 70's and 80's, or riding his motorcycle.
"In the sky or on the ground, always chase your passions. Mine took me airborne and it's been a rewarding 35 years."
Parabéns, Capt. Johannenson!